It's official!  CBS has confirmed Big Brother 15 will premiere and start during the summer of 2013.  Big Brother will start earlier than past seasons with a premiere date of June 26th, 2013 at 9pm on CBS.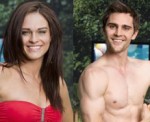 While you're here:  Meet the brand new houseguests for Big Brother 15 in our exclusive video interviews.  Also, check out pictures of the houseguests in their new habitat and photos of the new house.
Follow
WeLoveBigBrother.com
online and
@wlbb on Twitter
.
"BIG BROTHER" RENEWED FOR SUMMER 2013

CBS Gives Early Pick-Up to Hit Summer Series

BIG BROTHER, the summer reality hit, has been renewed for its 15th edition, to be broadcast next summer on the CBS Television Network.

Since premiering on CBS in the summer of 2000, BIG BROTHER has consistently finished among the summer's top-rated series in young demographics. This summer's edition is averaging 6.79 million viewers, 2.5/08 in adults 18-49, 3.0/08 in adults 25-54 and 1.7/06 in adults 18-34.

BIG BROTHER spans all platforms, from on-air to online and on cable.   Online, BIG BROTHER content, including full length episodes and highlight clips, are available at CBS.com and across the CBS Audience Network. Additionally, CBS and RealNetworks provide 24/7 streaming video from inside the Big Brother house.  On cable, viewers can continue their live look inside the Big Brother house with BIG BROTHER: AFTER DARK on Showtime 2.

On social media websites, BIG BROTHER is one of television's most socially engaged series. This year on Twitter, BIG BROTHER has had five times the average number of tweets per episode (according to BlueFin Labs) compared to last season.

BIG BROTHER, hosted by Julie Chen, follows a group of people living together in a house outfitted with more than 52 cameras and 95 microphones recording their every move, 24 hours a day.  Each week, the Houseguests vote someone out of the house. The last remaining Houseguest will receive the grand prize of $500,000.

BIG BROTHER is executive produced by Emmy Award-winning producer Allison Grodner and Rich Meehan for Fly on the Wall Entertainment, in association with Endemol U.S.A
Stick with WeLoveBigBrother.com online and on Twitter @wlbb for the latest Big Brother 13 news and gossip!