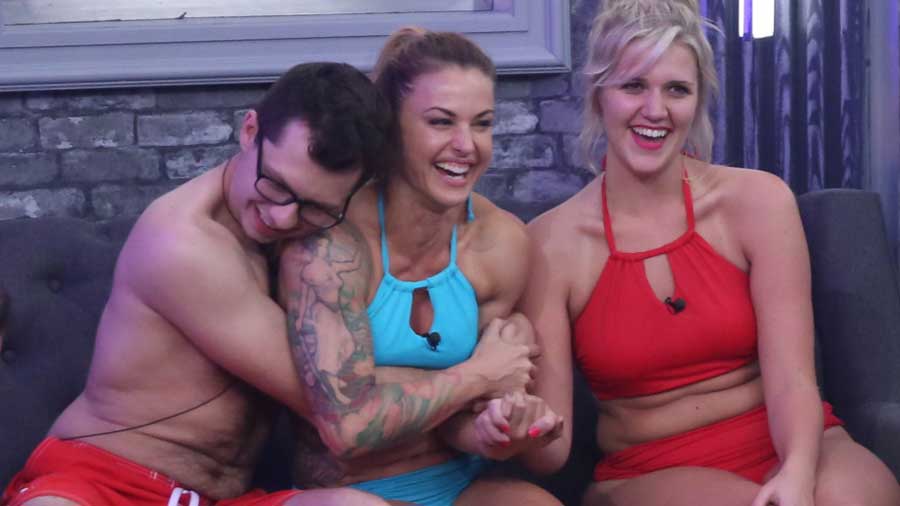 Hey, hamster fans! Apologies for the lateness of this post, but due to some crazy weather, We Love Big Brother was not able to watch the "Big Brother 19" premiere live because of local news weather updates. But now that we've had time to take in all the craziness, we have some thoughts.
Houseguest impressions
Jason's rodeo clown name is "Whistlenut." That's AMAZING. Also, I am predisposed to love him because I'm from Iowa, so let's hope this guy represents us well and is not some total goober (or, god forbid, someone out of Season 15. You know what I'm talking about).
Kevin had seven kids under the age of 12 at one point, HOLY SH*T. I have two kids under the age of five and that's hard enough. He must be some kind of saint.
Raven might be my favorite pre-show "Big Brother" contestant of all time — owns a dance studio and hunts ghosts in an all-girl ghost-hunting team. Outstanding.
What's hilarious is that the man the women seem to be fawning over the most is not the personal trainer or the career military guy, it's salt 'n pepper Matt. Get it, guy.
The twists
Love, love, love the temptation twists, especially if these people are primed to actually *take* the temptations (because how boring if they never come to fruition).
RELATED: Own a piece of 'Big Brother' history
However, I'm a bit torn on the addition of Paul Abrahamian. He's a fun addition to the show, but I was really hoping there would be no returning houseguests. Also, it's super crappy that one of the houseguests has to lose their spot to him right out of the gate, especially because he gets to choose safety for half the house.
The elimination
The three people in danger are Christmas, Cameron and Jillian. As far as keeping the most interesting people around, let's hope Jillian goes home out of those three. She seems like kind of a blah player. It's a real shame, however, that Josh ends up safe, because he's already tap-dancing on our last nerve and would have been a great person to swap out for Paul.
However, the power temptation goes to the three people in danger. They can choose how they want their fate determined — leave it up to the houseguests in a vote or battle against each other in a competition for safety. Jillian of course votes for a house vote, Cameron says competition and Christmas says vote. WHAT?! That's insane, Christmas.
RELATED: Get the 'Big Brother 19' live feeds now
And then we don't even get to see how everyone votes?! That's garbage. (Note: OK, at least we get to see it later.)
It's also such a bummer that Cameron has to go. We hate seeing clear superfans get ousted early because it's really disappointing for them. Plus, he would have been more interesting to watch than Jillian. Damn, guys.
In case you're wondering, the votes go Jason and Josh evicting Christmas, Matt, Mark and Cody evicting Jillian and everyone else voting Cameron.
What did you think of the premiere, "Big Brother" fans? And who gets your vote for the first Den of Temptation?
For all the latest "Big Brother" happenings, follow We Love Big Brother on Twitter and like us on Facebook. And don't forget to support our site by signing up for your "Big Brother" live feed trial through our website's link.