Let the season begin!  The Big Brother 14 houseguests have moved into the BB house and have begun settling into their summer home — and we have the first pictures to prove it!
On Monday afternoon CBS released the first group photo of the new houseguests and the four returning houseguests in the backyard.  On Saturday evening, the official CBS Twitter account (@CBSTweet) released a picture of the houseguests running into the Big Brother 14 house.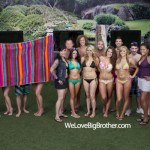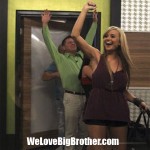 The first photo shows the twelve new houseguests plus the four returning houseguests. Of course, the returners are covered by a beach towel because we won't know who they are until the premiere episode.
The second photo shows houseguests Kara Monaco and Joe Arvin in the foreground and two obstructed faces, assumed to be JoJo Spatafora and Willie Hantz.
Meet all of the Big Brother 14 houseguests in our exclusive one-on-one video interviews.
Stay tuned to WeLoveBigBrother.com and on Twitter @wlbb for further breaking Big Brother 14 news.  And if you haven't already signed up for a the 24/7 live feeds, be sure to start your 3-day free trial.

Sign up for the live feeds to get a live and uncensored view inside the house.  It's a 3-day free trial!