Big Brother 12's Live Feed Test is Active & New Talk Show
Posted on: Wednesday, July 7, 2010 at 2:54pm
Big Brother has started streaming live from the house — well, sort of.  Big Brother 12 live feed subscribers can now tune into the live feeds and see a test stream that says "We'll be right back!"  But they can also tune into a live call-in talk show with Jordan, Janelle, Chelsia, and Missy while they wait!
Each season before the premiere of Big Brother, CBS begins streaming a test feed from the Big Brother house.  While the houseguests can't be seen until premiere night, this allows viewers to tune in and make sure their computers are working properly for the streams.  You can see a picture below of the current test stream on the Big Brother live feeds.
While you wait along with the rest of us, you can also tune into a new talk show exclusively for live feed subscribers called "Happy Hour."  It features Chelsia (BB9) and Missy (superfan) as hosts.  Wednesday night is their pre-season special with guests Jordan (BB11) and Janelle (BB6 and BB7).  Tune in at 6pm Eastern for their live call-in show.
To tune into the live test stream or the exclusive talk shows, you'll need a subscription to the 24/7 live feeds and we've got you covered.  In fact, if you sign up here and use coupon code "BB12QTEARLY" by Wednesday, July 7th 2010 at 11:59pm Pacific, you can receive 25% off your season-long subscription.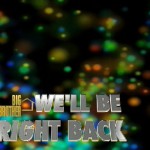 You can watch the houseguests and all of their crazy antics live 24/7 online! Be sure to sign up for the 24/7 live feeds right here to get a live and uncensored view inside the house.  After your 3-day free trial, its only $39.99 for the entire season!
If you sign up now , your subscription will be good until at least September 20th, which will be past the Big Brother 12 Finale.  Signing up now will give you exclusive access to pre-season content like interviews with BB11 houseguest and even re-watch the BB11 live feeds with Flashback! Plus, you can download $10 worth of FREE MP3s per month at no extra cost.  And enjoy content from other shows like Mythbusters on Discovery Channel.
Happy Hour Preseason Special
July 7 at 6pm ET
Jordan and Janelle join Chelsia and Missy in a special edition Happy Hour. They're taking your phone calls in a live video chat! Call 877-448-6639.
Big Brother Premiere Party
Happy Hour
July 8 at 6pm ET
Chelsia and Missy kick off a new season of Big Brother with a big, new online call-in show. Call 877-448-6639 with your questions and comments on the new season.
Eviction Fridays
House Secrets with Missy Z.
Friday, July 9 at 6pm ET
Missy goes online with a new webchat hour for Big Brother fans. Join her in the Big Brother chat room to dish about House happenings.